Austin Painting and Remodeling
From interior residential painting to full kitchen & bathroom remodels, we guarantee that you will be satisfied with the results.
As your local Austin painting and remodeling contractors, Picasso will take care of you, your family and your home.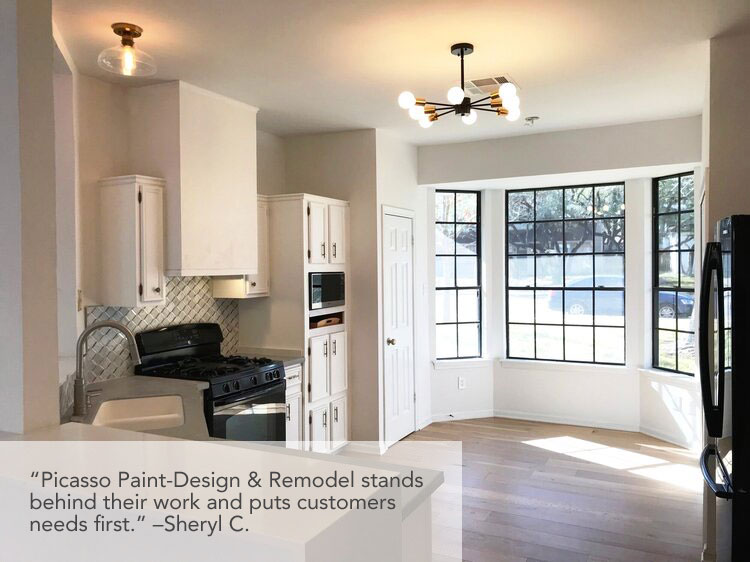 MAKING ART THROUGH LOCAL AUSTIN PAINTING AND REMODELING
We are the go-to Austin painting and remodeling contractors. We are a residential painting and remodeling company that offers white glove service to all of our clients. We understand that remodeling is an art form, and we take great care in ensuring that your vision is realized. Our team of highly skilled painting and remodel contractors will work with you to create a unique, elegant, and beautiful space that will be the envy of your neighborhood. From interior residential painting to full kitchen remodels, we guarantee that you will be satisfied with the results. Let us help you show off your artistic side with our white glove services.
Painting with a Vision
Welcome to our artistic realm, where color and skill redefine interiors and exteriors through expert painting. Our painters bring life to your design, stroke by stroke. Whether refreshing your living space or enhancing curb appeal, we prioritize top-notch results with precision and a passion for aesthetics, transforming your visions into vivid reality.
Roof & Siding Installation
Experience roofing and siding expertise where quality blends with durability. Our devoted team enhances your home or business, prioritizing precision and excellence in every project. Be it a strong roof or stylish, durable siding, we deliver enduringly exceptional results. Trust us to fortify and beautify your property from top to bottom.
Exterior & Interior Design
Step into our design sanctuary, fusing creativity and practicality in interior and exterior realms. Our adept designers breathe life into your living and outdoor spaces, infusing them with unmatched style and sophistication. Whether you desire cozy interiors or an inviting outdoor haven, we strive to marry aesthetics with purpose. Discover our portfolio; let's redefine your living spaces together.
Are You Ready for the PICASSO Experience?
We hired Leo and his crew after seeing their work at a friend's house. They did an amazing job—lots of attention to detail—and were one of the best quotes we got. I have since recommended PICASSO to many friends and neighbors!
I am a contractor, and customer satisfaction and quality of work is of the utmost importance to me. When I need something done, I go with Picasso with no Hesitation. They are responsive and their interior and exterior restoration work is impeccable!
I have worked with Leo owner of Picasso Painting, both professionally and personally. He is responsive, conscientious and most importantly, professional. He stands behind his work and puts customers needs first. I recommend Leo and Co, for liege and small jobs.
I have used Picasso Remodeling on a few commercial projects for Westlake Dermatology over the last few years. Regardless of the size or scope of the job, Leo attacks it with a high attention of detail, so that I do not have to worry about a long drawn-out punch list. I highly recommend the Picasso team for commercial and residential jobs.